Sunflowers-Yippee!
I've been transitioning into more and more acrylic paintings lately and really love working in this medium. First, it's super fun to create something that is hardy and light fast. I love the flow and mixture of watercolor but it's such a fragile medium for display. In the midst of this transition I was working in my old studio and staring at a really fun piece of work created by Marc Lucero. This bright cheery sunflower on a smooth wood panel was hanging over my work table and taunting me with it's fun vibrant colors on wood paneling. I thought to myself… I can make something fun and vibrant with acrylic… So I did.
I decided to take the inspiration and go with a small sunflower series. Each piece is 5in x 5in square canvas painting. I originally planned for something simple and without much texture but the paintings just didn't work out as planned. The first piece is a closeup of the center of a sunflower. I did a layered series of dots for the center portion and I love the look of it. I also went with a painterly approach to the petals of the flower, meaning each petal is a layered piece showing depth and movement. It was a ton of fun… a little more work than I'd planned but I like the end result.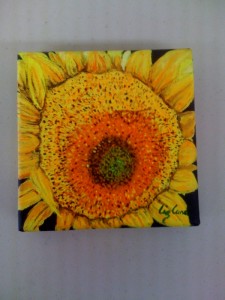 The second piece was a piece showing the whole flower. I originally did the background for this piece as white but hated the look so I painted the background black. The black really brought out the fun vibrancy of the sunflower look. This piece isn't as detailed as the closeup piece but is fun in it's own way. It's more impressionistic in style.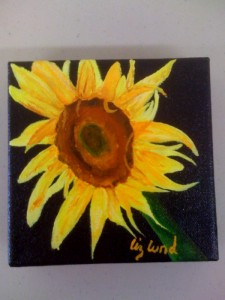 The third piece is coming and not finished yet…. I'll post it when it is.
I'd love to hear what you think!