About the Artist
Liz Geiger Lund: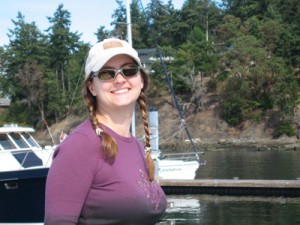 I studied art in college with a focus on watercolor landscapes and figure studies. In my work with the government I was able to travel extensively. I find myself inspired by the scenery and artwork I've seen around the world. The majority of my work is in watercolor done in the puddling style. I was introduced to this style in college and found that it really captured my imagination. Puddling allows for beautiful blooming and wonderful out of control areas defined in some crisp lines.
I also adore working with colored pencils as they allow for intricate pieces. I rarely work small, and so each colored pencil drawing can take up to 40 hours. The layering and depth one can achieve is worth the time and investment of energy.
The great impressionists have heavily influenced my art and I strive to communicate sensation of a moment in my art. I believe art at its finest should evoke emotions in someone, whether it's joy, humor, or simple peace art should definitely speak to you. Although an understanding of composition, form, line etc… can help one understand the technical aspects, in the end you enjoy the piece or not. This core communication steps outside of education and speaks simply to the underlying emotions. I have always found these emotions through my time outside and therefore most of my artwork is landscape work. I hope you enjoy my work and sense of humor.
I am currently occupying a studio space in Everett, WA with one other amazing artists; Janet Wold. We are in the corner gallery and studio on the corner of Wetmore and Hewitt in downtown Everett.
Upcoming Shows:
Around the Block-Parklane Gallery
Barns, Bridges and Boats-Oct. 26, 2010-March 2011
Current Work/Current shows
Cards and Reproductions of artwork  available at Wise Designs,Everett,WA  and FX Gallery Seattle (Freemont), WA
Past Shows/Gallery Displays
Street Tunes- Downtown Everett August 2010 (Street Tunes made King5 News at 5,  Evening Magazine, NPR and local newspapers.)
ArtFX Gallery-May 2010 July 25 2010
Anthony's Woodfire Grill-Everett- 5 pieces Mid May-Mid April 2010
Participated in Art in Great Spaces-July 2009-August 2009
Snohomish County Gallery – July 2009
Gilt Edge Society: Individual Show Winter 2009
Body Center Studios: Individual Show– Spring 2009
Whidbey Island Cafe: Individual Show– Spring 2009
Lombardis Restaurant:Art Wall– Fall 2008