Baby gifts and Sweet Thoughts
These days all my friends seem to be creating new life and I always struggle to find unique and original gifts. One of my dearest friends and her husband (yep the guy even married my husband and me!) recently had an adorable baby girl. I wanted to do something special and meaningful but struggled to find the right gift. I decided to create something similar to what my parents were given when I was born. A family friend gave my parents a very sweet embroidered piece with an image, my name, pounds and date. I don't sew but I do know how to create artwork, so I spent some time researching options. I decided to go realistic… sort of. I wanted something sweet so I opted to use a bunny as an image. I spent a good deal of time online looking at bunny photos and learning how bunnies are shaped. Once I got comfortable with the shape I decided to work in colored pencils, they're fun celebrate childhood and I have been missing them as a medium. So I drew a bunny in colored pencil and then added in the information for the sweet baby girl. That being said I had to celebrate the girlyness of it all so I changed the bunny to a pink one!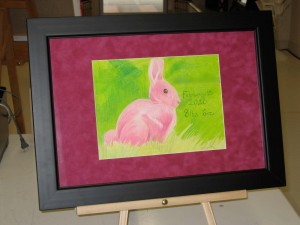 I've blurred out the baby's name but the rest of it is true. In this case I've added a basic frame and some very fun mat board to the piece.
In the future I plan to take high resolution photos of the pieces before I add in personal information and use the images to create prints. The prints will allow me to put in nice font names and such but it's a print so a bit less personal. I'd love to hear what you think! The next creature will be a frog… I'm collecting frog photos 🙂 Cool frog photos anyone?