January 10th, 2012
Last year, while surfing through my favorite art supply store I came across some tiny canvases and thought…oooooh fun!  They are super fun to buy but a ton of work for such a tiny painting.  I started a series that has had a great response… my 'Tiny Treasures' series.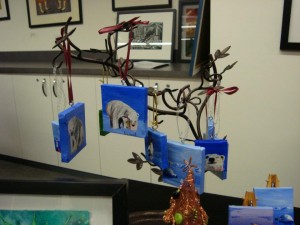 I started selling them for the Christmas/Holiday season and realized that people wanted more… so this year I did some more.   This year I did a polar bear series, and expanded the repitoire to include 3×3 inches not just 2×2 inch paintings.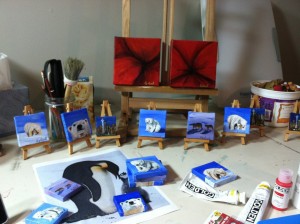 I did several Seattle scenes (those sold on the first day of display) and a bunch of Polar Bears, as well as the snowmen I created last year.  I intend to create more and to offer them throughout the year.  I think I'll create a bunch of Seattle scenes as well as some scenes for other areas.  Given that I come from the DC area I think I might make a few tiny treasures for the DC Area (monuments etc) and maybe some of the San Francisco bay area.  I'd love to hear comments about ideas or things you think you'd like to see!